Beginning in the 80s and 90s and accelerated by the financial crisis of 2007/2008, many US companies relocated their calls centers overseas to capitalize on lower labor costs. However recently this trend is reversing and we are now beginning to see more and more overseas call centers migrate back home. Companies are noticing that the profit from offshore call centers once sought after never materialized because of the offshore agents' inability to generate meaningful revenue from their calls. This resulted in 180,000 jobs coming back to the United States in 2012 and 2013, and this trend is expected to continue.
Before discussing some of the reasons behind this trend, it's important to point out the massive size of the US call center industry. The US currently houses an estimated 66,000 call centers where approximately 5 million Americans are employed. The sheer size of this alone means that industry trends can have a large impact on the US labor market as well as the economy. Recently, we decided to study the characteristics that successful call center agents embody that differentiate them from the rest.  During this process we identified 3 crucial characteristics that high-performing call center embody using aggregated and anonymized data from the Marchex Call Analytics platform.
The primary data set for our analysis comes from Marchex Call DNA, which is conversational analytics technology that visually maps, classifies and scores every phone call, automatically.  The data that it provides allows us to measure the efficiency of phone calls by providing data such as hold time, agent speech time, and dozens of other metadata that allows us to evaluate the caller's experience.   The results suggest that domestic call centers have a set of best practices or guidelines in place that differentiate them from offshore centers.  These guidelines seem to be a major factor in better sales performance and reinforcing the good reputation of the brands that they represent. As customer experience is becoming more and more important, it is likely that this is one of the main reasons we are seeing a shift of call center jobs back to the US.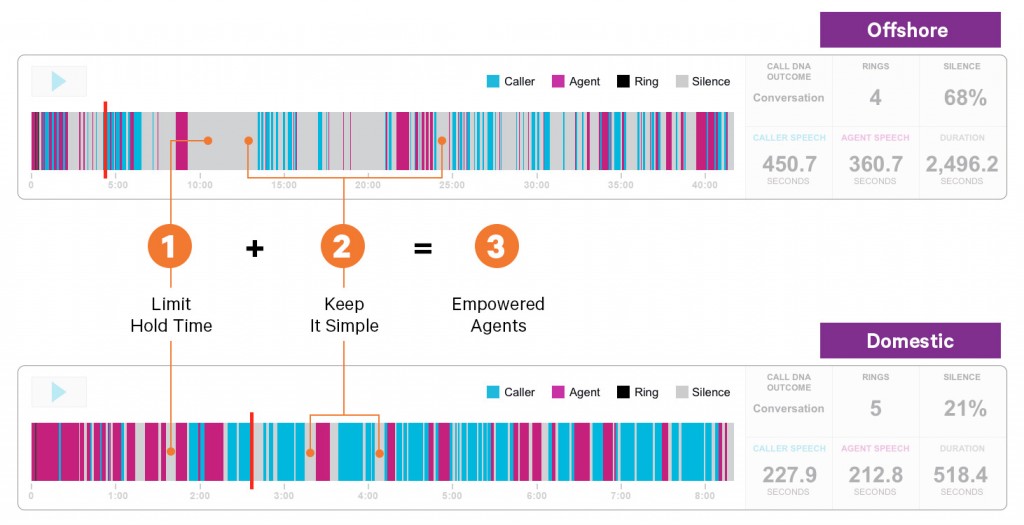 Listed below are 3 fundamental characteristics that we believe to be the source of the sales performance disparity between domestic and offshore call centers.
Limit Hold Time- It is fairly obvious that when consumers are subject to long hold times they are more likely to be frustrated or hang-up the phone. Using Call DNA, we found that there was a statistically significant difference in hold time between domestic and offshore call centers in the same industry, such that the average offshore call center hold time was about 1 minute and 15 seconds longer than the average domestic call center hold time, t(8552)= 10.12, p<.001. Generally, we believe that domestic call centers were able to better understand the urgency of certain caller inquiries and be quick on their feet to accommodate accordingly. When agents have a weak understanding of certain caller's problems it can lead to long pauses or hold times.  We believe that an ability to solve problems quickly and correctly is another likely reason for why sales performance of domestic call centers is exceeding that of the offshore call centers.
Keep It Simple- When communication exchange is simple and easy to follow, customer experience is improved and the likelihood of making a sale increases. Marchex Call DNA uncovered that although the domestic call centers we studied had better conversion rates to sales, there was a statistically significant difference in agent speech time such that offshore agents required 40 seconds more to communicate the same product information to a consumer, t(7798)=8.84, p<.001. This suggests that domestic agents efficiently explained the products and services that they offer, making them easier to follow, and optimizing the caller's experience.
Empower Agents – Call DNA also clearly shows that many offshore call center agents have to consult with supervisors or transfer calls in order to solve issues that deviate from a routine sales call. The visual map of phone calls provided by Call DNA (see sample below) clearly indicates that calls to offshore agents often result in transfers or consultations while a consumer is waiting. The data shows that domestic agents had a more comprehensive understanding of particular inquiries that could arise limiting the number of transfers and optimizing the caller's experience.
Although the lower labor costs of offshore call centers are attractive incentives, US companies are more than ever realizing the importance of caller experience. For this reason, we have observed and can expect more call centers to migrate back to the US where companies can optimize the caller's experience and ultimately make more sales.
Marchex Call Analytics, the leading analytics platform for click-to-call, measures more than 300 million calls annually for leading brands and agencies worldwide. The platform includes Marchex Call Analytics for Search, the only real-time solution that provides 100% attribution for every phone call from mobile search.  
Marchex Call Marketplace is a mobile ad network designed to drive new customer calls for advertisers, while lowering the cost per acquisition. MCM brings together top consumer brands with publishers who have been hand-picked and vetted for performance and quality.