Conversation analytics are advanced metrics of the Marchex Call Analytics Suite and offer an array of deep insights from the huge sets of data created from a brand's inbound phone calls. A range of metrics provide insights into customer sentiment, lost opportunities and interesting calls – a daily shortlist of calls that offering especially insightful knowledge to a business. Agent Script Tracking is another feature in this group and offers one of the most actionable metrics in the suite.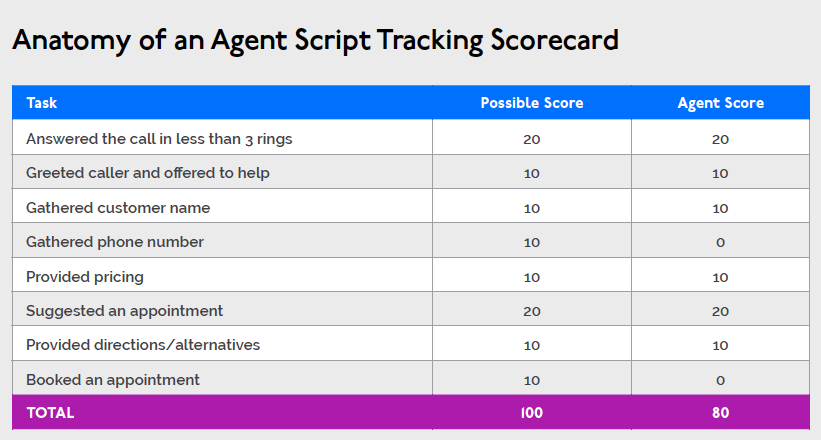 Agent Script Tracking is simply a scorecard that measures specific agent actions and displays the results on a dashboard. While this feature comes with a standard scorecard of basic actions, the measured behaviors are highly customizable to fit a brand's specific needs. Here's an example of how it works: One Marchex customer implemented conversation analytics in late 2016. The customer used the initial metrics as a baseline and then began monitoring the metrics in near real time.
What gets measured gets improved
The Agent Script Tracking dashboard can measure regional areas, specific stores or even individual agents. For this customer, when we looked back over a 12-month period, there is a clear trend of improvement in the metrics from this dashboard. Because agents and store locations can understand clearly what they are measured on, they have the opportunity to change behavior to conform to the scorecard. For a brand with multiple locations, the bottom percentile is the "low-hanging fruit" when it comes to making quick improvements to call handling. For this customer, when comparing the progress of the 25 lowest-performing locations to the average of all the stores, this group improved at 3 times the rate for the brand as a whole.
Our customer drives revenue from inbound phone calls, so optimizing call routing to agents and optimizing call handling by agents is key to the company's success. One measure of this is the number of appointments scheduled during calls.
Small improvements have a big impact
Setting an appointment is a standard item on an agent scorecard when interacting with customers who connect over the phone. One of the most compelling improvements involved the number of appointments being set by stores. Increasing the number of appointments scheduled by the 25 lowest-performing stores correlated with a boost in revenue. Since the majority of customers who make appointments show up as scheduled, adding additional appointments can have a significant impact on revenue.
To see how this can impact a 1,000-location brand, download Agent Script Tracking Success Story.
If you are interested in learning how Marchex Call Analytics Conversation Edition can help your brand drive revenue, check out our Conversation page.