Phone calls are becoming increasingly important in a mobile world. And as a consumer spends more time on their mobile devices, it is estimated that sales influenced by calls now account for more than a trillion dollars. As consumer preference shifts to mobile, advertisers are looking for solutions that help them understand how advertising spend on search, display and other media channels influence sales, especially sales that happen offline.
Early this year, Marchex broke new ground by developing an analytics product that tracks every inbound phone call from search called Marchex Call Analytics for Search.  As we with worked with our customers on attributing offline sales to search spend, we started getting asked about tracking calls from display.
The missing 98%:                                                                    
Unlike search ads, display impressions are not known to drive conversions directly where consumers click through from the display Ad to a website or to a call. When Marchex ran a test earlier this year, we saw that it took on an average 500,000 impressions to generate a phone call via click-through. Display ad spend was not driving a meaningful amount of calls.
However, our hypothesis was that although consumers may not call directly from a display ad, those same ads are likely to influence consumers to make a future phone call.  This turns out to be true, and according to research we released today from the Marchex Institute, as it takes an average of just 8,000 impressions to influence a phone call within 2 weeks after exposure to a display ad.
In other words, 98% of inbound phone calls are not being measured by traditional call analytics products.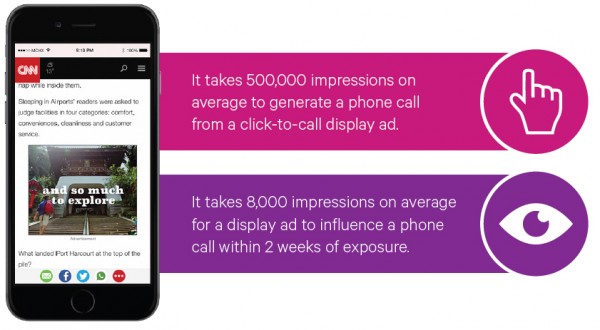 Here's the story of how we tackled this problem.
A view-through call conversion metric for Display:
The team at Marchex in collaboration with the Display Media team at OMD, a world class advertising agency, took on the problem. We quickly realized that in order to understand display's view-through influence on call conversions, we had to first solve the problem of attributing an online event like the display ad impression to an offline event like a sale made through an inbound phone call.
The answer to problem was the Marchex Audience Graph, a 1st party data set that matches online users represented by cookies or Audience IDs to their offline profiles represented by anonymized phone numbers.
Powered by the Audience Graph, we were able to develop Marchex Display Analytics, the first and only solution that provides real-time view-through conversion metric for inbound phone calls. Marchex Display Analytics is now in beta, and allows digital marketers to measure ROI of programmatic campaigns by attributing offline sales from calls to display advertisement impressions.
Using Marchex Display Analytics, we were able to show that it only took on an average 8000 impressions to influence a phone call within a two week period. This was a tremendous improvement over the 500,000 impressions it took to drive a call directly from Display Ads. Only analyzing the data further, similar to the pure online scenario, for online to offline too, 98% of the call conversions from display came via view-through.
45% reduction in CPA for Display Campaigns:
With Marchex Display Analytics, we now have a product that can attribute inbound phone conversions to display via view-through and click through. Early tests show that when including inbound call attribution, true cost per acquisition for display campaigns are reduced by 45%. This is game changing. For click to call commerce, display is finally getting the credit deserves. Advertisers in Financial Services, Travel, Automotive, Telecom, Media and Entertainment and Home Services verticals, who typically see more than 50% of their sales coming through offline channels such as calls and store, stand to benefit from this product.
What's next?
With Marchex's deep technology in the conversational analytics space, we aspire to work with visionary customers and partners to develop a 360 degree view of the consumer journey – the various consumer touch points across search, display and other media channels – that lead to a conversion through an inbound phone call. We strongly believe the analytics we develop will help marketers close the online to offline consumer journey, leading to overall improvement in return on investment.