If filling rental properties with tenants is your responsibility, you likely know that phone calls play a role in closing the deal. Potential renters search according to their own specifications, then make a phone call for more information.
The good news is, the potential tenant has already pre-screened your listing and yours made the shortlist. Now, it's time to close the deal. So, how can you ensure that you optimize the call to achieve the best outcome – a filled vacancy for you and a new home for your tenant?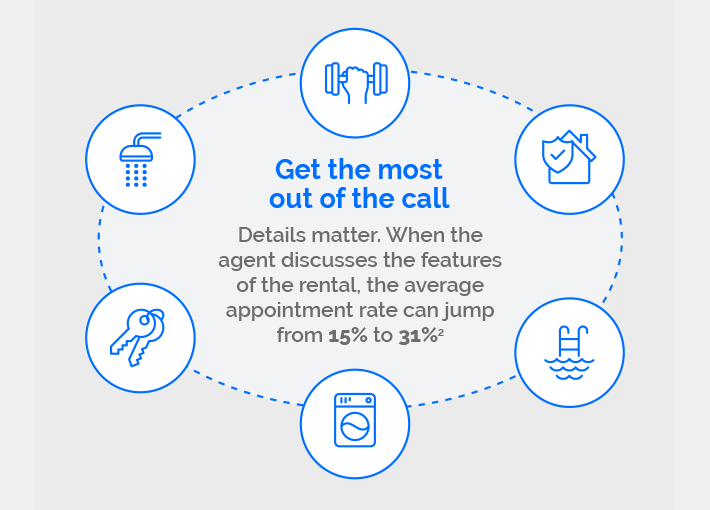 (click to view full infographic)
As a leading call analytics provider, Marchex has routed millions of phone calls via its platform over the course of several years. Our team of data scientists at the Marchex Institute recently analyzed a large dataset of inbound calls to our clients whose job is filling rental properties. The data told an interesting story summarized in a downloadable real estate infographic. Read on for a few tips.
Actionable tips for real estate professionals
1. Answer the phone quickly.
Taking the call on three rings or less limits the amount of time the caller has to abandon the call.
2. Know your properties
When you created your listing, you provided certain details. Thus, the caller likely has follow-up questions. Be prepared to answer these questions or you can frustrate the caller who may hang up and move to the next option on their list.
3. Present alternatives
In a fast-moving market, the property may already be rented when the prospective tenant calls. Or, the property may not be a good fit. For instance, the caller may be looking for a pet-friendly unit, but the property doesn't allow dogs. In these situations, providing alternative properties that better meet the caller's criteria can be the difference in filling a vacancy.
4. Provide an incentive
Offering a move-in special or other promotion can increase your chance of closing the deal.
To learn more about how Marchex can help your company get more tenants, visit our real estate page.