With the number of auto showroom visits at an all-time low, optimizing phone conversations with potential buyers is increasingly important as a competitive edge.
For our final installment of the Marchex Institute's three-part series on getting the most out of inbound calls at auto dealerships, we dive deeper into the actual conversation that salespeople are having with callers on the phone.
In the first report, the Marchex Institute's findings provided actionable steps auto dealers can take to optimize inbound call traffic and increase sales. The second installment analyzed how call handling impacts automotive purchasing decisions. For this final edition, we consider this question: Once you have landed the call, what steps can the salesperson take to improve the quality of the conversation with potential buyers?
The research uncovered the following habits of top performers in the study. Higher performing salespeople generally:
Asked more questions
57 percent more often than the lower performers, to be exact. Questions can guide the conversation to learn more about the callers' needs, thereby getting closer to a sale. Typical questions included:
"Do you care…?"
"Are you interested in…"
"What kind of…?"
Used active listening techniques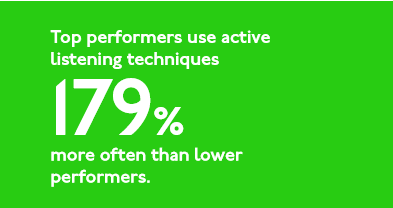 When the salesperson strived to learn more about
why
the caller was interested in a particular model, they were able to better help the caller make decisions and take next steps. This approach provided a seamless experience for the caller and lead to higher rates of success. Top performers used active listening techniques 179 percent more often than bottom performers. Examples of phrases that top performers used include:
"You said you're…"
"You're telling me…"
"Okay you said…"
Requested contact information from the caller
Top salespeople provided their own direct contact information to callers 40 percent more often than bottom-performing salespeople. This may have helped build trust by showing the salesperson's commitment to the caller. In addition, the method of getting the phone number varied as well. Instead of asking for a phone number in order to call the potential customer back, top performers more often said:
"Can you confirm your phone number in case we get disconnected during this call?"
I shared these latest findings in a recent webinar held in partnership with Marchex VP of Automotive Matt Muilenburg, who provided deep insights from his decades of experience working with the automotive industry.  If you're interested, check out the on-demand webinar.
The full report contains additional findings and an explanation of the research data. To learn more about how you can optimize the conversation and increase sales, download the full report:
Marchex OEM Auto Study 2019: Guide Callers to Become Customers