Not a Marchex Speech Analytics customer? Try it out here.
Business executives are responsible for keeping organizational performance top of mind. As a result, they're demanding that analytics move beyond the IT function to one that provides a snapshot of the business's overall health, on-demand. However, using analytics in ways most executives consider helpful requires surfacing actionable insights that meet the following criteria:
Measurable: can it track the most business-critical KPIs?
Timely: does it highlight topical business results without having to log into multiple systems?
Customizable: does it let them manipulate data to support multiple forms of analysis?
Employee Performance: can it motivate people responsible for driving KPIs?
The new Speech Analytics Executive Overview Dashboard checks all these boxes. It makes it faster and easier for companies to view actionable insights from their calls to their business in one convenient and comprehensive view; backed by powerful AI and machine learning, it features a range of capabilities and analytic tools exclusive to Marchex Speech Analytics customers including:
Trend Chart:

The Trend Chart helps marketers optimize their media and keyword strategies with insights into customer calls that indicate high buying intent and lost opportunities. It's ideal for assessing how well businesses are handling revenue generating calls over time. This can help with forecasting, budgeting, and assessing positive and negative business spikes from customer interactions.
Interesting Calls Breakout: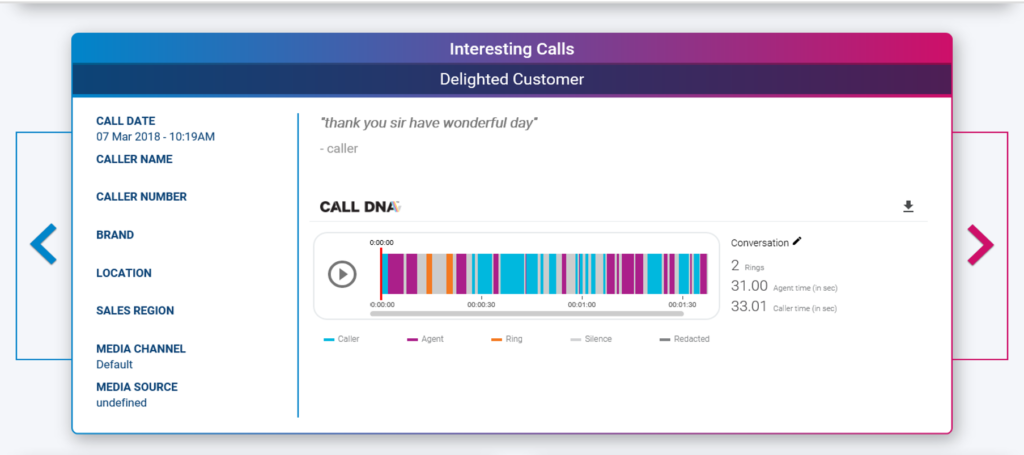 Imagine being able to listen to your most interesting customer calls on-demand. The Interesting Calls breakout lets you do just that. Backed by a sophisticated rules-based algorithm, you can hear calls featuring delighted or disgruntled customers for an immediate understanding of how they're reacting to special offers or their overall experience with the brand.
 Time of Day Chart & Leaderboard:

The Time of Day Chart provides a consolidated, zoomed-in view of customer conversations by day and down to the hour. It shows when lost opportunity and high intent customers are calling, as well as your agent script tracking scores. With this information, you can adjust staffing levels accordingly to ensure your best agents are on the phone, at the right time. This can lead to more first-call resolutions, closed deals and satisfied customers.
The Leaderboard captures top and bottom sales performers across KPIs such percentage of deals closed, upsell and cross-sell conversions, as well as lift from various sales promotions. It opens opportunities to test new agent scripts and processes, stimulate friendly competition and establish a culture of continuous improvement.
Call Table: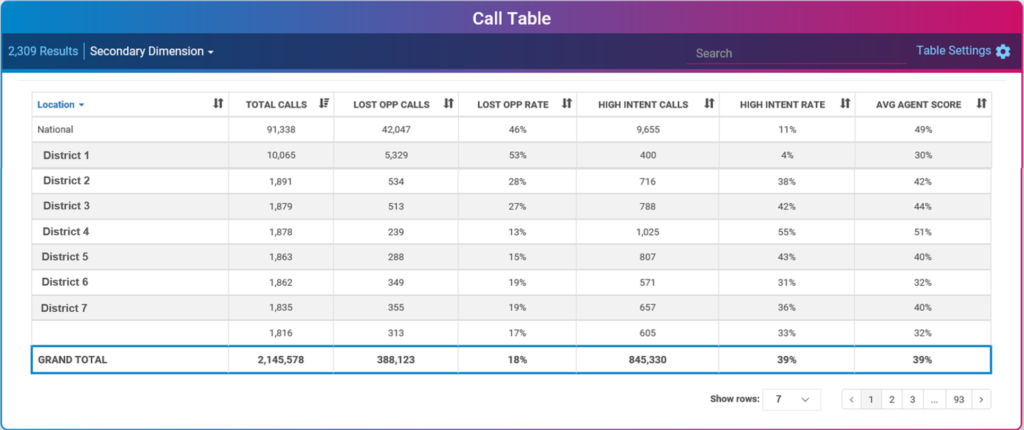 The Call Table displays an aggregated roll-up of all speech signals, tying marketing and sales operations metrics together in ways that can help grow revenue and accelerate ROI. It's excellent for franchises who want an in-depth, customizable and adjustable look into how well individual locations are performing.
As the famous Peter Drucker says, "if you can't measure it, you can't improve it." The new Marchex Speech Analytics Executive Overview Dashboard is ideal for helping both the C-Suite and line of business owners easily and quickly uncover actionable insights between callers and brands. They can use it to get real-time, consolidated views into their KPIs across all company operations. As a result, it gives business leaders oversight they need to stay on top of strategic opportunities and chart the necessary path forward.
For more information, please visit the Marchex Speech Analytics page.