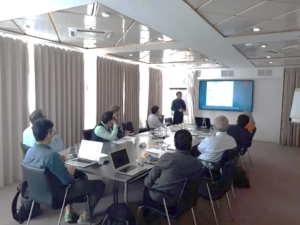 Marchex VP of Engineering,
William Li
, attended the 8th International Conference on Advanced Information Technologies and Applications. (
ICAITA-2019
) He presented in Copenhagen, Denmark as chair of the Artificial Intelligence committee. The conference focuses on significant contributions to all major fields of artificial intelligence (AI) and soft computing. In addition, the overall aim of providing a platform for researchers and practitioners to meet and share cutting-edge development. William served as a session chair to moderate and collaborate with other speakers.
Predicting Customer Call Intent by Analyzing Phone Call Transcripts
William's presentation explained the value of real-time insights and how this helps our customers in marketing, sales, and customer service. Session attendees exhibited a strong interest in Marchex's ability to predict call intent with high accuracy, and in our ability to have analyzed over 1 billion minutes of call conversations across over 1,000 enterprise customers. This led to a conversation on scaling a semi-supervised learning approach for the AI model training.
"Predicting call intent is one of the most essential parts of understanding the conversation. Marchex's AI provides a real-time and highly accurate intent detection engine for businesses to act on these insights in a very scalable way."

–William Li, VP of Engineering, Marchex
Through the work of its MIND Lab, Marchex is committed to advances in AI, speech, sentiment and conversational analytics. If you're interested in implementing AI at your company, check out William Li's AI planning tip (#1) in this Forbes article, Considering An AI Plan For Your Company? Follow These 11 Tips.
To learn more about Marchex AI technology, check out this article on Marchex speech recognition functionality or visit our Conversation Edition product page.