The third annual Marchex Cares event provided Marchex employees the opportunity to participate in special volunteer events aimed at giving back to our local Seattle community. Throughout the month, Marchex partnered with Seattle-based non-profits including YouthCare, FareStart, Treehouse, Food Lifeline, and The Ronald McDonald House. In early May, representatives from each organization shared its respective values and mission. Marchex employees signed up to donate a few hours of time during the workday. It was a great way to serve the community with fellow Marchex volunteers.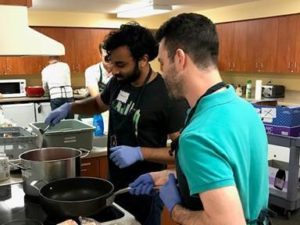 "It was a great experience volunteering for Treehouse! Our group worked at the Treehouse Wearhouse, a free store where youth in foster care can go shopping for high quality, new and like-new items. We tackled a few projects while we were there, mainly sorting and tagging garments and accessories for the store. The layout of the store and quality of the items impressed everyone. They've put a lot of care into making everything look and feel like a real shopping experience. Because of this, I would highly recommend volunteering or donating to Treehouse in the future." – Camille Bishop – Event Marketing Manager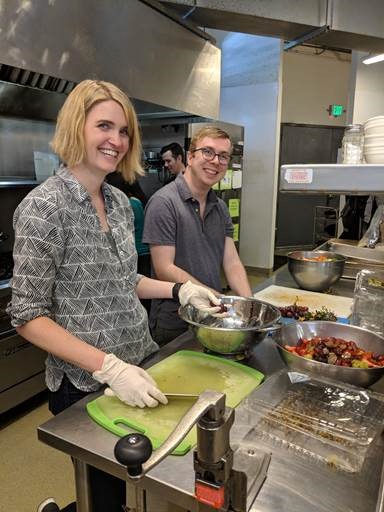 "Cooking and serving lunch for homeless youth at YouthCare was a blast, even though my cooking skills were put to shame by some of my fellow Marchexers! Thankfully, I stuck to salad duty. I enjoyed learning about all the different services YouthCare offers to prevent youth homelessness. They offer services from shelters to education to job training. For this reason, I'd like to volunteer there again." – Adam Hutchinson – Digital Marketing Manager
"I look forward to planning and participating in Marchex Cares every year. We're in our third year and I very much look forward to seeing how we can continue to make a positive impact on local organizations through these volunteer opportunities. Above all, everyone gets the opportunity to step out of their work zones and get involved in great organizations alongside their peers!" – Kelly Severyns – Sr. Manager, Client Services
Being sponsored to give back to our local community is just one of the many great benefits of working at Marchex. Interested? Visit our Marchex Careers page to view current open roles.