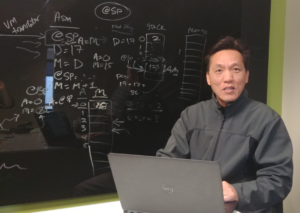 Today, I'd like to introduce Dr. Junmei (pronounced June-May) Zhong, our new Chief Artificial Intelligence (AI) Scientist at Marchex. Dr. Zhong has spent more than 18 years researching and innovating in the field of artificial intelligence (AI) and its many related disciplines including applied mathematics, machine learning, data mining, pattern recognition, deep learning, and natural language processing among others. He has had the opportunity to apply his learnings in the biomedical, technology and marketing fields.
Jana Baker: Welcome to Marchex, Dr. Zhong. You have a very impressive resume. I'm interested to know how you'll be applying your learnings and experience in artificial intelligence here at Marchex.
Junmei Zhong: Thank you and please call me Junmei. The realm of artificial intelligence offers exciting possibilities across many disciplines including marketing analytics. At a high level, my role will be to find innovative ways to apply AI technologies to customer datasets in order to discover hidden patterns within the data that can help our customers reduce their costs in running their businesses and increase their sales to gain a competitive advantage.
JB: I see. I understand you have developed applications in the medical industry, particularly around computer vision, digital imaging, signal processing, and medical physics for CT and MR imaging. Your work has even led to several patents. How is this related to marketing and working with very large datasets?
JZ: The interesting thing is, whether a challenge is in the medical industry, commerce, electronics or another area, the fundamental technologies of machine learning work across all the industries. We can deploy these technologies across the industries with the individual domain knowledge considered. My role will be to apply all my expertise in applied mathematics, statistical analysis, signal processing, etc. to different business domains. Insurance has different datasets than telecommunications, but machine learning, for instance, can be applied to both datasets even if we formulate the solutions differently.
JB: Very interesting. It will be exciting to watch this unfold. What drove you to join Marchex?
JZ: Marchex, as an analytics company, has a vast potential to provide business value to our customers by helping them gain insights from their customer data. Applying AI technologies to these large datasets can help create great value for our customers. Enterprise businesses in several industries can benefit from AI to leverage hidden patterns within the customer data.
What is especially compelling is that AI technologies offer win-win opportunities for Marchex and our customers. Our customers can gain a deeper level vision into their business problems when we apply AI technologies to their big datasets. For instance, we can seek to uncover signals that predict churn. If we can predict churn signals, our customers have an opportunity to retain their customers before they move to a new provider. AI technologies can play a significant role in predicting the potential of customer loss.  We are successful when we help our customers achieve success.
JB: I agree! Thank you. This is an exciting time to be at Marchex.
Marchex Call Analytics Conversation and Ultimate editions utilize AI, machine learning and natural language processing to provide deep learnings from customer datasets.
Marchex's commitment to AI-powered technologies that help surface insights within huge datasets is now significantly enhanced by the launch of the Marchex Innovation Development (MIND) Lab, a new research and development group within Marchex focused on product innovation and acceleration to help businesses engage and nurture customer relationships across communications channels. Read more in the official press release.