Real estate companies such as senior living centers, real estate investment companies, and other rental properties generate a lot of phone calls in their quest for tenants. Given the amount of marketing dollars spent on driving calls from potential residents, the Marchex Institute analyzed more than 8.8 million inbound calls made in 2017 to more than 300+ properties in their quest to fill vacancies. The surprising findings included a failed call rate of 27 percent.
Breakdown of failed calls
Calls are classified as successful if the caller reaches a representative or leaves a voicemail. Other outcomes are determined to be "failed calls" and were further broken down into four categories:
Unanswered calls by the business
Interactive Voice Response (IVR) or Voicemail Abandons by the caller
Call transfer abandons by the caller
Hold time abandons by the caller
Here is the breakdown of failed calls: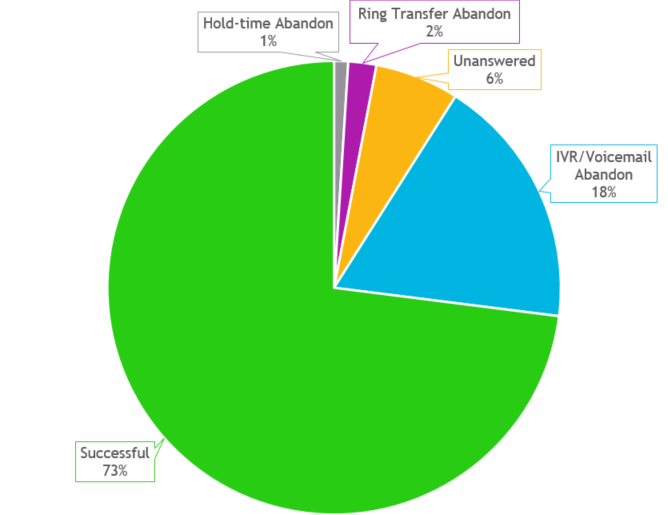 Caller intentions aren't aligned with marketing goals
Given the dismal call handling rate, the Marchex Institute performed further analysis on a subset of the calls to search for terms that indicated pricing was discussed or an appointment was made. They reviewed 600 calls to 100 properties across all types of multi-family real estate businesses.
The findings: Only 48 percent of calls received were inquiring about housing options. More than half of the calls were personal calls for existing residents or employees and hang-ups. What's worse – of the 48 percent of callers seeking housing for themselves or a relative, only nine percent of those calls actually resulted in an appointment.
Rental housing is a competitive industry that relies on marketing for success. Driving calls via paid search or display ads is a common tool of real estate marketers, but how these calls are handled can make a difference in whether you make your occupancy goals.
There are several steps real estate marketers can take to get the most of inbound calls both before the caller connects with your business and after.
Tips for optimizing inbound phone calls
Streamline the interactive voice response (IVR) process so callers reach a representative sooner.
Reduce or eliminate hold or transfer times within the call routing process.
Staff appropriately so someone is available to take each call.
Learn what keywords and channels are driving high-performing calls and optimize.
Provide clear information to relatives on how to reach their family members to keep sales lines clear.
As a Call Analytics provider, Marchex has helped some of the largest companies in the multi-tenant housing industry learn what is driving their calls and what happens when callers connect with their business. These insights can help businesses make simple adjustments to their call operations to gain more value from their existing marketing budget.
For more information on a how Marchex helps companies in the real estate industry, check out our real estate page.