The growing omnichannel market has made it difficult for businesses to connect with customers. Whether it's by phone call, direct mailer, email, social, or text messaging, it's more critical than ever to meet customers where they are by adopting new or emerging technology channels. Traditional outbound channels can be slow and ineffective to top-of-funnel customers as they are less likely to answer sales calls or respond to emails early in the discovery stage. In addition, this leads to sales inefficiencies and lots of wasted time on the phone since sellers have no way to know who is a high-intent prospect vs. a cold lead.
It's time for a new approach. For a growing number of businesses, AI-powered SMS is the answer.
Check out this Opus Research and Marchex on-demand webinar to learn about the rise of automation in SMS and how it can be applied to accelerate prospects through your sales funnel. Actual customer use cases of Marchex Sonar will provide real-life examples of what this technology can do for businesses today.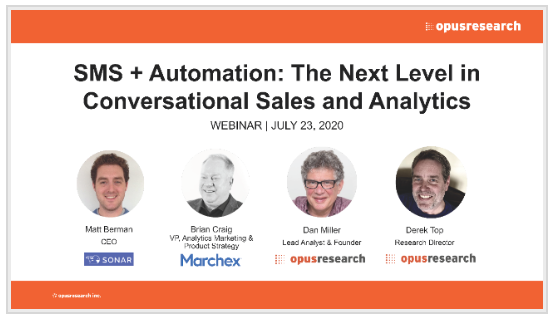 In this webcast, you'll hear how SMS, when integrated with automation and AI-powered workflows, helps businesses:
Accelerate lead qualification and sales conversion by offering
Boost sales productivity as much as 5X or 10X
Add new customers and revenue
You'll also hear of operational use for mobile employees, such as the ability to alert field staff or partners with real-time updates regarding urgent business or customer actions.
Don't miss out on this opportunity to learn from the experts at Opus Research and Marchex! View the webinar