What is the impact of abandoned calls?
Odds are your best customers are calling your business by phone. In fact, according to this Forrester study the customers who initiate phone calls convert faster, spend more, and have a higher retention rate than other customers. But not every call from every interested potential customer gets through to sales agents. When these callers intend to buy, abandoned and failed calls represent missed opportunities for significant revenue.
There are several ways in which abandonment can become an issue during an inbound call:
During holds. When potential customers are left on hold, they can grow frustrated or impatient with the call and hang up to try a different company. Often, the key to good call handling is preventing wait times for the caller. Your company can limit hold-time abandons by knowing when agents put callers on hold the most and making steps to staff adequately during those hours.
Unanswered calls. When a potential customer calls your business, they expect to be answered. Unanswered calls most often mean that the customer journey with your company stops right there, leaving any revenue you could have made on the table. Improve sales conversions by making sure an agent can answer every call coming to your business – and find a call analytics solution to know when unanswered calls are an issue.
IVRs. Interactive voice response menus can be time-consuming and frustrating for potential customers hoping to talk to an agent. It's important to streamline the call routing process all the way through, shortening voicemail greetings and keeping menus simple and short. Long and difficult voicemail and IVR processes can prompt customers to take the simpler option of hanging up and calling another business – potentially a competitor – who may answer the phone immediately.
Call tracking numbers provide key abandonment insights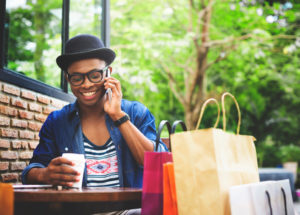 With Marchex Call Analytics, you can track your call abandonment rate and get more details to prevent failed inbound calls. Call intelligence solutions can tell you when in the process an abandonment occurred, allowing your company to adjust and optimize phone systems. This information can make your business easier and more viable to contact, improving sales conversions and satisfying customers.
For example, Marchex Sales Edge Rescue sends you an alert when a call with a potential customer doesn't end well, including when the caller hung up or became disconnected. With this rapid insight, sales agents can reach back out right away to close the deal.
Call Intelligence that delves beneath the surface
A good call analytics solution goes beyond call abandonment rates. You need to know why a call failed, where the caller came from, and get high-intent potential customers back. This means you can move beyond the industry standard for call abandonment rates and start optimizing how you do business throughout a phone call. A conversation intelligence solution uses conversational analytics and AI to gauge a customer's intent as an inbound call progresses, allowing your agent to follow the lead even after the call ends.