A Call Tracking Number (CTN) is a phone number that can be published on any media and used to track consumer response to advertising campaigns. CTNs also allow for business conversations to be recorded, analyzed, and reported as data. That data is automatically processed, classified, and surfaced through dashboard applications, making it easy to track how many phone calls a campaign generates.
In addition, CTNs unlock insights from the business conversations within those phone calls. Whether it's email marketing, social or print advertising campaigns, CTNs can help you determine how hard your marketing budget is working for you.
CTNs operate like your standard phone number. They are provisioned from carriers and assigned from a pool of numbers that can be toll-free or a combination of both local and toll-free. Each CTN has three major components:
Numbering Plan Area (NPA) or Area Code. These are the first 3 numbers.
Prefix. These are the next three numbers or the first three digits in a local number.
Line Number. The final 4 digits in a phone number.
Here's a color-coded breakdown:
800

–

354

–

1234




• Numbering Plan Area/Area Code (NPA): Toll Free NPAs are 800, 833, 844, 855, 866, 877, 888




• Prefix (NXX): N is any number 2-9;X is any number 0-9




• Line Number: (XXX)
Numbering Plan Areas (Area Codes)
NPAs are native to a specific rate center. Within a rate center, calls are always local, and callers aren't charged long distance. Rate centers are usually entire towns, or cities or portions of larger cities; a single NPA can have many rate centers.
Local Calling Areas
Local calling areas (LCAs) are groups of rate centers where callers can make local calls. LCAs often extend beyond city boundaries, allowing callers to dial nearby cities at no cost.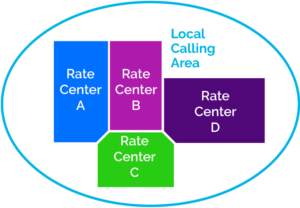 Area Code Expansions
As demand for phone numbers rapidly expand, new area codes arise according to the standards of the North American Number Plan Administration. New areas codes are implemented in two ways.
Area code splits:

a geography covered by a single area code is split into two or more geographies, each with its own NPA. When this happens, some phone numbers are changed from the existing NPA and given a new NPA.

Overlay area code:

when numbers within a certain NPA are exhausted, a new NPA is issued in the same area as the existing NPA. In this case it's not uncommon for actual neighbors to have different NPAs.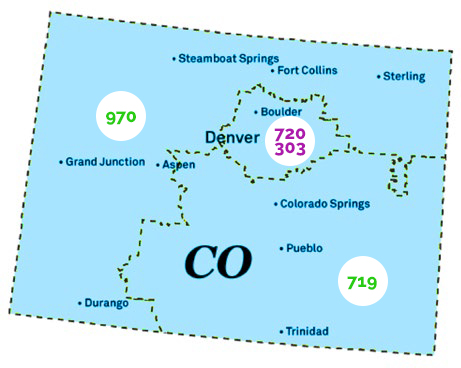 Area Code Splits: 970, 719
Overlay Area Code: 720, 303
Calls within the same NPA may not be local. NPAs often cover a very large area with a lot of local calling areas, and even more rate centers. Marchex's CTN provisioning system maintains the latest data from the North America Numbering Plan Administration (NANPA) to confirm the locality of a CTN.
Keeping CTNs aligned to the latest standards of the NANPA helps Marchex stay on top of ongoing changes so that the CTNs we provision remain fully operable and can be dialed at the lowest cost possible.