The Missing Conversions
When you think of how much time, budget, and intellectual power go toward driving calls, it begs the question: What happens when callers connect? Did I gain a customer? Schedule an appointment? Win the deal?
We call that specific 120-second interaction between a caller and your customer service agent over the phone the "Moment of Truth"
Are you consistently winning the Moment of Truth?
Think about it: You've planned, strategized, executed, got your prospect to call — all for this moment. Callers represent your best customers – they spend more, convert faster and churn less. The Moment of Truth exchange is crucial to your business.
To learn more about Call Analytics and the challenges they solve, download our new eBook:
Find the right solution
Call Analytics solutions can be very simple or very robust depending on what you're trying to solve.
Just need to count calls? Find a basic package.
Need to know what happens when a caller connects with your agent? Evaluate an AI-powered speech analytics solution.
Need deeper insights into your digital ads that drive calls, such as which keywords work? Check out our advanced media performance edition.
If calls are your main source of leads, look at technology that measures media performance to drive calls and provides insights on calls once they are handled by your business with a full-range Call Analytics offering.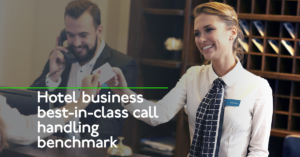 Dealing with Angry Customers
Remain positive when dealing with angry or frustrated customers. Callers are typically frustrated with the situation, not with your customer service agent. Providing positive customer service is paramount when dealing with an angry customer. The Marchex Institute found that saying things like "I can solve that for you" or "I'd be happy to help" can de-escalate an angry caller and provide a sense of empathy.
Don't pepper the caller with apologies. This can be difficult and may seem counterintuitive when you're trying to de-escalate a situation. Politeness pays and it seems natural to apologize or say you're sorry, however, the Marchex Institute found that low-performing agents actually tend to apologize more often. Some saying "sorry" 3.5 times and 50 percent more often than agents who were able to facilitate a positive outcome. The difference here is to be empathetic, yet focused on the solution, rather than what didn't work out. Explain what you can do to help and focus on positive outcomes that can help your angry customer get closer to the goal they're seeking.
Our final tip is to avoid negative phrases like "No, I don't think I can" or "No, that's not right." Angry customers do not want to hear what CAN'T happen—they need to hear what CAN happen. Framing conversations with solutions rather than problems can help de-escalate tensions on the phone. Consider providing an alternative time for an appointment or product that can help the caller.