Boost your bookings
Lower new customer acquisition costs, improve agent performance, and convert more prospects to customers.
60% of mobile searchers say they're likely to call a hotel, book a cruise, or rent a car if a mobile ad has a click-to-call option.
Drive more reservations

Close a higher percent of existing traffic by finally understanding how phone calls are driving revenue.

Learn what happens on your calls

Analyze conversations by location, agent, products or services, and outcomes. Reveal actionable insights so you can chart the next steps in the customer's journey. Eliminate manual monitoring with the most advanced speech recognition and natural language processing technology in the industry.

Target travelers ready to book

Retarget prospects that didn't convert. Upsell those that did. Maximize the return on your advertising spend by honing in on the high-intent customer. Marchex campaigns are optimized in real-time using a combination of call analytics data, industry expertise, and proprietary technology.
Learn how Marchex helps you find more of your best customers in the travel industry
Hear from our customers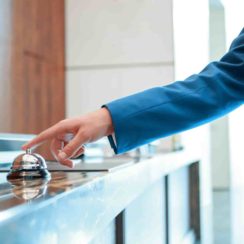 We have a number of clients using the service and listening to calls has helped them improve their call center performance. Some have even switched services or taken them in-house.
- Senior Executive, Hospitality Company
Ready to see how Marchex helps you improve the customer experience and increase bookings?
See what our customers are saying about Marchex
G2 Crowd Reviews