When you face a marketing challenge today, there's an excellent chance that marketing technology exists to solve it. On the flipside, with thousands of products on the market and counting, the vast number of options available can make it difficult to know where to start. So, how should you approach selecting marketing technology? Whether you're searching to fill a specific gap or in the market for a complete stack, here are some learnings from our own recent martech-buying experience.
Consider your customers' experience
First, approach your journey with your customer in mind. As chiefmartech.com's Scott Brinker notes, it's important not to lose sight of why we operate these technologies: to provide remarkable customer experiences. So, while you determine the best option, ensure the outcome delights your customers in addition to meeting your needs.
Understand marketing technology categories
Next, decide the category of software you are looking for. There are several resources you can use to help you choose. G2Crowd and Capterra offer searchable martech categories to help you narrow your focus. Capterra provides a summary of each product along with user ratings. G2Crowd offers hundreds of thousands of detailed user reviews. If you aren't sure which category to start with, the chiefmartec.com Marketing Technology Landscape organizes technologies by department and function. Select a few brands within the relevant bucket and start your research there.
Try before you buy
Once you've narrowed down your search to a few technologies, it's important to demo the application or perform a pilot. Trying before buying is commonplace with martech and you'll want to understand the advantages and limitations of a solution before you commit. After viewing demos of your choices, you may want to trial your top choice. If you're having a tough time deciding, one place to go for information is a reputable blog. For instance, take a look at Lucep's Top 50 Martech Blogs and Influencers post that highlights a variety of blogs (including the Marchex blog –thanks, Lucep!) focused on the latest trends in marketing technology.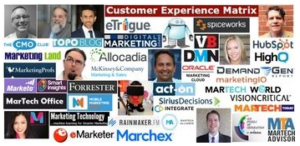 Offer a strong onboarding and training experience to users
Finally, choose a technology and get going. Remember, user adoption is the key to success. Make sure your team is well trained and has resources to help during the onboarding process.
Even if you aren't in the market for new technology now, it doesn't hurt to find a few favorite blogs to subscribe to, so you can stay current on the marketing technology landscape.