Leveraging a call tracking solution that provides call recordings and transcription can save you time and deliver valuable business insights. Many call tracking and telephony platforms offer call recording. Yet, transcription is not always an option. If you want to understand what happened on a specific call, you need to listen to the recording. If you want to know what happened on every call, this isn't realistic.
Call transcription converts an audio recording of a conversation from a phone call into human-readable text. Call Analytics takes transcription a step further by surfacing key insights from a call and across a collection of calls, in addition to providing searchable transcripts for further in-depth analysis.
Marchex Platform Services can provide transcription, analytics, and augment those with the caller's demographic data, often at a lower cost compared to other platforms. This new service applies conversation intelligence to call audio data without the need for a business to procure call tracking numbers or switch platforms. There's no longer a need to listen to every call, you can understand performance across your organization and take action with the insights gleaned from conversations in your existing communications platforms.
Call Transcription for different department needs:
Marketing
For a marketer, having a transcript of phone calls can provide insights other metrics can't. Using call transcription data, marketers have access to keywords that real customers are using while interacting with your brand. These call transcriptions can give a marketing team a better understanding of what their ideal customers are looking for. This information enables marketers to optimize sponsored keywords as well as tailor their ad copy to reflect prevailing consumer sentiment, helping to increase conversion rates and ROAS.
Sales
If your business needs to meet certain benchmarks, such as the rate of lost sales call opportunities, call transcription allows a sales team to dive deeper into why a potential sale didn't happen over the phone. When the conversation is mapped out in text, it's easy for business managers to quickly see where the problem arose and why the sale was not made, giving their team the opportunity to potentially call back and save the sale.
Customer Success
Understanding customer sentiment is important to the success of any business. Tracking, analyzing and transcribing your calls gives businesses valuable insights into the customer experience and how the customer service representative handled the call. Addressing issues over the phone quickly saves time and money. Instead of using a secret shopper program, call transcription is a much more efficient way to analyze customer sentiment at scale.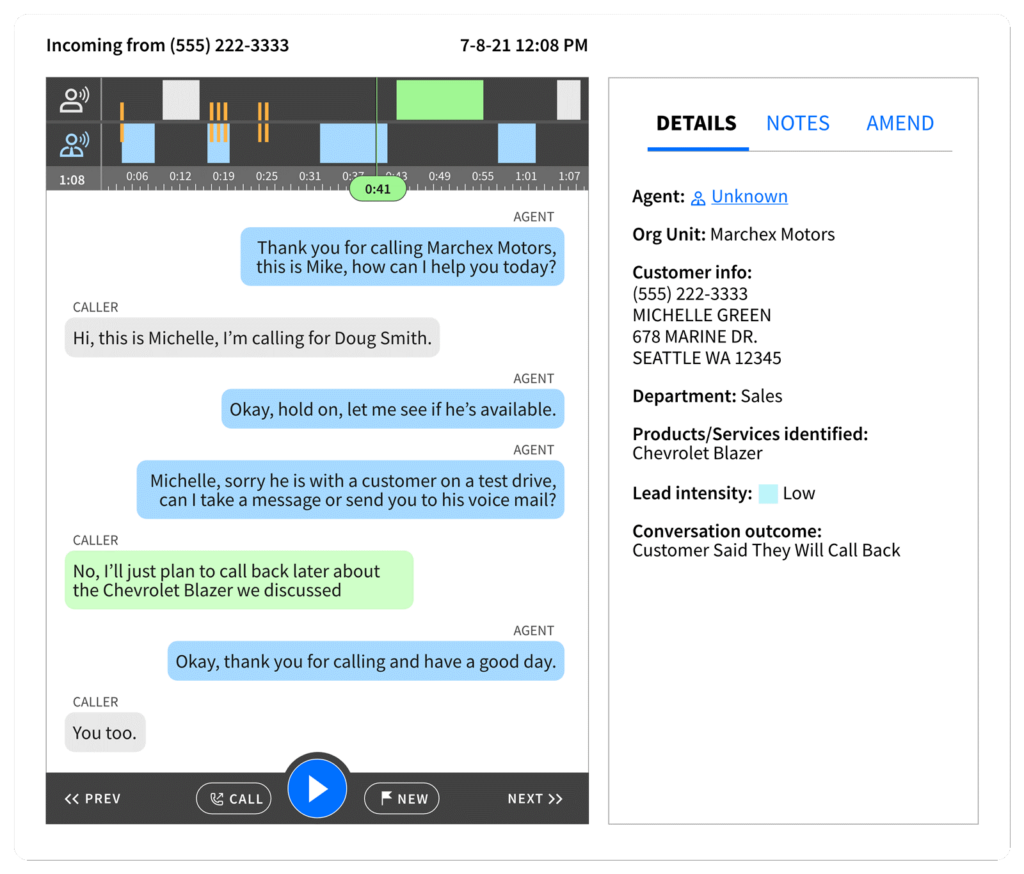 Get a demo of Marchex Platform Services to discover how you can apply conversation intelligence to recorded calls coming from your existing communications platforms.