Why Should I Choose Automated Texting?
According to Forbes (and anyone with a cellular phone), text is the future of ecommerce. With 90% of customers opening a new text within 30 minutes of receiving it, it's not difficult to see why it has become the fastest, most personal marketing channel available. Text outperforms other popular forms of marketing. For instance, it boasts a 98% open rate compared to email's 15%-20%. 
Businesses that use text messaging rarely do so in isolation. Most need their text communication to be coordinated with other communication channels and strategies that are often orchestrated through a CRM (Customer Relationship Management) or similar software. As more and more businesses centralize their operations and workflows, Hubspot has become one of the most popular business technology suites on the market for managing your communication with your customers. Now, you can further expand your communication footprint with text. 
Have you ever wished you could add text communication to your call and email workflows in Hubspot?  Texting doesn't have to be a manual process when you use Sonar + Hubspot. 
How to Automate Actions with Workflows
The Sonar integration for Hubspot allows businesses to automate key actions in their text strategy using workflows. Enabling the Sonar integration in your Hubspot account allows your Workflows to trigger five different Sonar actions: 
Send a message to a contact

 
Send a campaign message to a contact

 
Add or update a customer record in Sonar

 
Schedule a follow-up message when an action is taken by a customer

 
Assign a contact owner to a customer in Sonar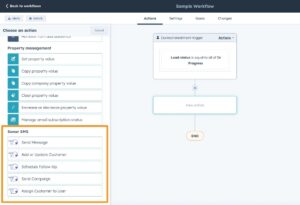 The Sonar actions for Hubspot Workflows are built for contact-based workflows; i.e. workflows in which contacts are enrolled. Both the Hubspot "contact" and the Sonar "customer" represent a person with whom your business has a relationship such as leads, prospects, and current or past customers.  
A Variety of Use Cases
Here are some reasons to use texting within Hubspot:  
Seamlessly add text messaging to your automated communications within Hubspot, i.e., Call, Email, Text can all happen in the same cadence.

 

Trigger text communication based on changes in customer dispositions in Hubspot; such as a "No Answer" call disposition that triggers a personalized text outreach. Try including a link to your Hubspot meeting scheduler and watch the meetings roll in.

 

Assign a customer or lead to the contact owner in Hubspot. The benefit of this is that the Sonar user gets notifications and can easily filter their Sonar inbox to show their assigned contact/customer conversations.

 
Keep a customer engaged after initial contact with appointment reminders or promotional material.

 

Synchronize your customer data so you have the same details about your customers available in Sonar and Hubspot. 

 

Send a follow-up message to a new contact after an event

 
Learn More
If you're interested in learning more about the Hubspot + Sonar integration, contact us today.