Marchex S3/SFTP Integration for UCaaS
Developed by Marchex
Overview
Marchex integration for S3/SFTP integration for UCaaS enables your business to easily apply Marchex conversation intelligence to your S3/SFTP integration for UCaaS phone calls. Conversations are provided to Marchex seamlessly, without the need to port phone numbers, set up campaigns, or learn a new UI. You specify the exact solutions needed and your business consumes the results quickly via webhook and/or API.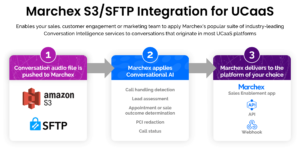 Call Handling Detection
Detect whether there was an adequate conversation to determine the intent of caller

 

Detect when staff fail to effectively engage in a conversation and determine if there is an opportunity 

 
Compare rates of inadequate conversations by location, region, or other attribute

 

Assess whether performance is improving over time and meeting business expectations
Lead Assessment
Determine lead volume per campaign, media spend or business location

 

Agencies and marketing services companies can quantify the number of actual opportunities for their client business to schedule appointments or transact, enabling them to prove value and reduce client churn 

 
Appointment or Sale Outcome Determination
Quantify actual appointment rates by location, region, or agent, filtering out non-booking conversations such as appointment confirmations, reschedules and vendor calls  

 

Enable seasoned sales staff to receive alerts when a seller opportunity was not closed so they can reengage to rescue the opportunity

 

Enable coaching opportunities for seller/agents with lower appointment rates

 
This is a communication platform integration.