Let's
Connect

Let's start by filling out this short form
Privacy Policy
If you prefer not to receive marketing emails from Marchex, you can opt-out of all marketing communications or customize your preferences here.
Marchex Call Analytics Conversation Edition
Take your analytics beyond call time, duration and location with the power of artificial intelligence. Understand the nuances of your customer conversations to create the most outstanding customer experience possible.
Let's start by filling out this short form
Privacy Policy
If you prefer not to receive marketing emails from Marchex, you can opt-out of all marketing communications or customize your preferences here.
Insights from all your calls at a glance
Marchex makes it far faster and easier for companies to view actionable insights from their calls — in one convenient, comprehensive view:
Trend chart
Quickly identify which high intent prospects to follow up with and automatically flag lost opportunities for easy retargeting
Interesting calls
Interesting calls are automatically surfaced for additional review
Time of day chart
View conversation trends by day and hour to identify key time periods
Leaderboard
Highlight your top and bottom sales performers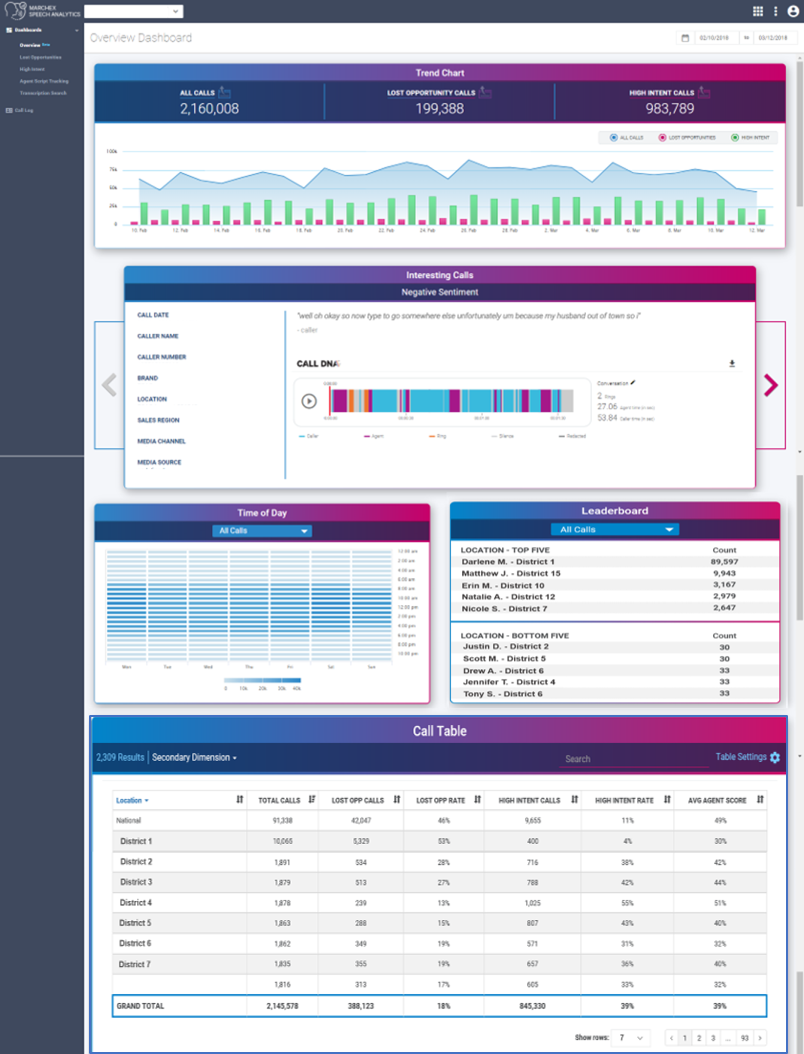 Understand what happens on every call
Marchex helps you know what happened on every call so you can quickly optimize your marketing and media spend to drive more phone calls that convert to customers.
Optimize your sales team performance
Identify high-performing reps and leverage their best practices. Optimize sales scripts and confirm they are being followed. Ensure agents are properly trained to increase your sales close rate.
More reliable than IBM Watson (Source: Gigaom)
With Marchex, you can understand at scale what's happening on inbound calls so you can quickly optimize your marketing and media spend to drive only the phone calls that convert to customers.
Hear from our customers

"When General Motors rolled out Marchex Speech Analytics, we were amazed at the insights it provided. We are using this product every day to better understand our sales agent behaviors and to improve our customers' buying experience."

–  Jim Bechtell, VP & GM at Somerset Buick GMC Inc.
See what our customers are saying about Marchex
G2 Crowd Reviews
Learn how Marchex helps you understand what's happening on your phone calls