As an auto seller, you likely know that calls are part of the path to purchase for most customers in the market today. Making sure your calls get answered is critical; so how do you make sure your phone operations are top notch?  
The NADA 2023 show is now only one week away! If you're coming to Dallas this year, make time to stop by the Marchex booth #7253 to meet with our automotive team to:  
gain

customer

insights from phone calls

 
learn

industry best practices 

 

hear our thoughts on

the future of the automotive industry
 One topic we plan to cover in-depth is call handling.  
Schedule a Meeting 
To learn more or to meet with our automotive consultants at NADA, schedule a meeting today. 
Our auto team has more than 150 years combined experience in the industry and has conducted extensive research to stay in touch with what dealers face. A recent study measured failed call rates across thousands of dealerships nationwide.  
Best-In-Class Dealers Average a 3% Failed Call Rate. How Do You Compare? 
Internal Marchex research has shown that dealerships averaged a 3% failed call rate. We found that these dealers tended to follow a series of best practices to ensure that nearly all incoming calls had satisfactory results. First, best-in-class dealers rarely use IVR systems in their phone calls. They instead ensure that a live representative is available during business hours to answer incoming calls from potential buyers. Next, top dealerships never allow the phone to ring more than three times (about 20 seconds) before answering, and always take messages rather than allow the call to transfer to voicemail. Finally, we found that these dealers utilize warm transfers during calls rather than ringing several extensions in a row.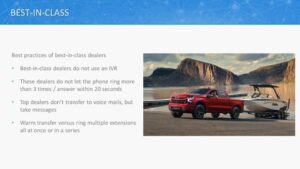 To reduce your failed call rate, focus on these two areas first: Interactive Voice Response (IVR), your campaign tracking numbers, and review your conversational data. As mentioned before, the top auto dealers do not use IVR, they instead use a live person to communicate with potential buyers. Deploying this strategy at your business will increase the likelihood of successful outcomes for incoming calls. Beyond calls, other ways to improve your dealership's call-handling practices are to optimize your campaign listings and add all tracked calls to a conversation intelligence platform—like Marchex Spotlight.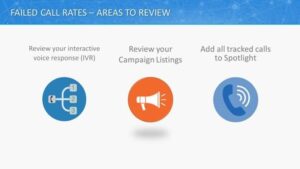 Come Check Out our Booth! 
Marchex is excited to have the opportunity to connect with auto leaders from all over the country at NADA 2023 in Dallas. Visit our booth (#7253) and discuss where the automotive industry stands, and what your dealership can do to adapt to the ever-changing retail environment. To learn more, book a meeting now.