The most successful interactions with prospects and customers take the form of a digital, omnichannel conversation. It's more critical than ever for businesses to be able to digitize the conversation across time, devices, and channels. The Opus Research Conversational Intelligence Intelliview report evaluated the strongest players in this emerging discipline and analyzed why conversations are the New CX.
Conversations initiated by consumers are high-value first-party data reflecting each consumer's intent. When subjected to Conversational AI, this first-party data becomes Conversational Intelligence, which can optimize customer experience as well as sales and marketing outcomes. In short, Conversational Intelligence converts raw data into valuable business insights. Opus Research evaluated 11 Conversational Intelligence providers and Marchex is the clear leader.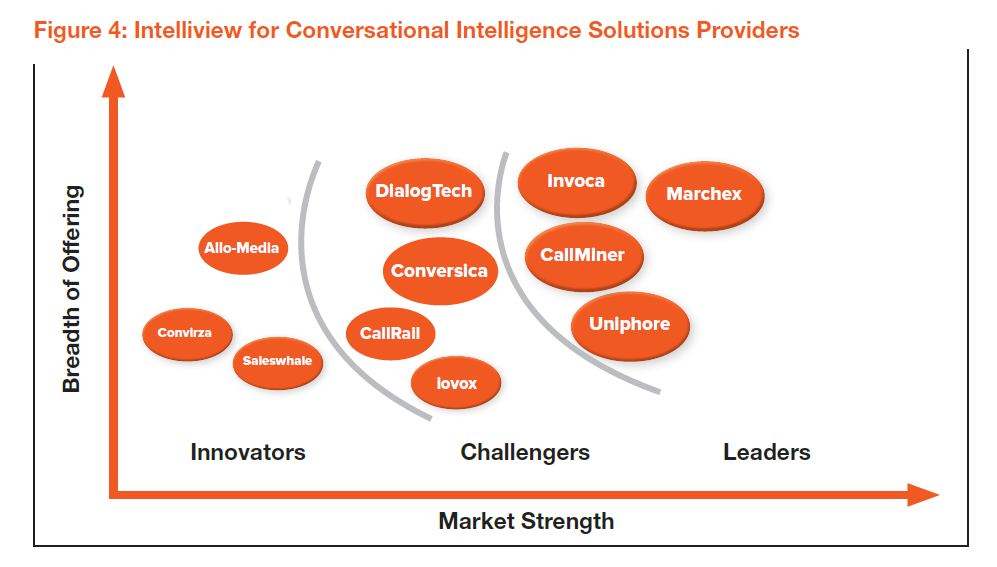 Marchex key differentiators
Opus Research included core offerings and key differentiators in its profile of each vendor. Several of the key differentiators are what helped set Marchex apart from the other providers:
Advanced AI models and signals built on a large-scale conversational data set of more than one billion minutes of consumer-to-business conversations processed annually. Marchex AI goes well beyond the basic keyword-spotting approach prevalent in the call attribution and analytics industry.
Proprietary voice transcription with nearly human levels of accuracy that is 35% more accurate than IBM Watson. The accuracy of conversational analytics is foundational to delivering value to businesses in a way that is measurable, verifiable, meaningful, and actionable.
Multichannel analytics/expansion to SMS text messaging: Texting expands the footprint of Marchex's robust conversational data set, extending its ability to use artificial intelligence to surface deep consumer intent signals across texts, messaging, and voice communication channels.
Customer base, size, and longevity as a Conversational Intelligence firm. Used by more than 1,300 companies, including many of the world's largest brands.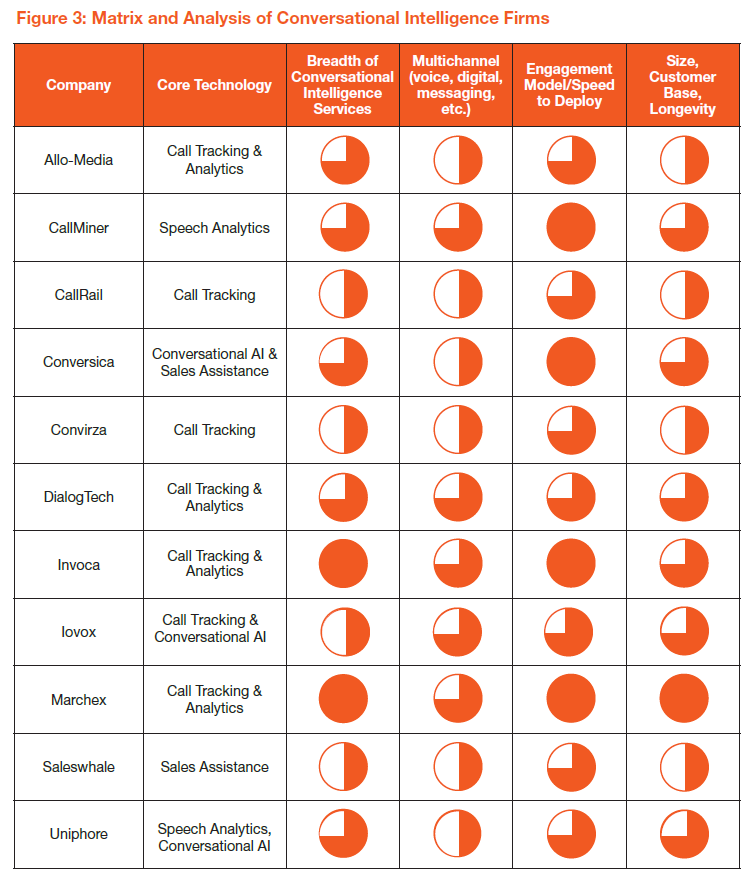 Evaluation Criteria
Providers were evaluated on four key factors: Breadth of Conversational Intelligence Services, Multichannel sources (voice, digital, messaging, etc.), Engagement Model/Speed to Deploy, and Size, Customer Base, Longevity. Marchex earned top marks across 3 of the 4 categories.
Breadth of Conversational Intelligence Services
Marchex earned top marks (a full moon) for its breadth of services by demonstrating robust, real-time analytics of spoken and text-based input and by providing interfaces into reporting systems so data is easily actionable.
Multichannel sources (voice, digital, messaging, etc.)
Marchex has established expertise with its years in call analytics, and also supports text conversations due to its acquisition of Sonar.
Engagement Model/Speed to Deploy
Marchex offers use-case driven packages of services to address specific business outcomes across the organization.
Size, Customer Base, Longevity
Founded in 2003, Marchex products and services are used by more than 1,300 brands.
To learn more about the emerging field of Conversational Intelligence, download the full report.
About Opus Research
Opus Research is a diversified advisory and analysis firm providing critical insight on software and services that support multimodal customer care. Opus Research is focused on "Conversational Commerce," the merging of intelligent assistant technologies, conversational intelligence, intelligent authentication, enterprise collaboration, and digital commerce.