Using paid search is a core tactic in many a marketer's strategy. You create keywords and ads based on what will drive the most revenue and the best ROI for your business. Within the platform, you can see the number of clicks and cost your ads drive and if you've set up conversion measurements, you can see the number of conversions and an assumed value based on a simple call duration threshold.
With that information, you can learn if your campaigns are performing. The assumption is simple, if your conversion value is greater than your cost, then you can assume that your ads are profitable.  But what if the actual revenue your company generates doesn't align to a simple call duration or you have multiple values based on what service a caller purchases during the call. You are most likely evaluating your performance incorrectly and at risk of optimizing your account in a way that actually hurts your revenue and decreases your ROI.
If you're a marketer who uses paid search to drive phone calls, you are all too familiar with this limitation because you can't manage call outcomes and optimize your account accurately in a scalable way. However, with the addition of Call Analytics, you can.
Call Analytics attributes phone calls using advanced routing and tracking so you can match your marketing dollars to the real outcomes of your calls. This information can be integrated into your Google Analytics and Google Ads platforms so you can see the ROI for each level of attribution within your account and get a better understanding of your return on ad spend (ROAS).
For example, here is a hypothetical campaign for a roofing company:
You have two roofing campaigns using Google call conversion measurements based on a 3-minute call duration that you consider enough time to be counted as a conversion and you assume a $2,000 value based on your average revenue/roofing job.

The difference in the campaigns is the two locations you market for Denver and Phoenix. Based on the performance above, both locations are performing similar but with one being slightly more efficient.  Given the current data, you would assume that you should spend more on the higher ROAS location in Phoenix and pull back on the less efficient Denver location.
But when you look at your actual location sales, you realize they don't really match the All Conversion values in your Google Analytics report.
If you want to make better decisions, you're going to need a better solution.
If you were using Call Analytics, you could include a sound recording that would prompt and route callers to your new roof salesperson when they press 1 and to your roof repair specialist when they press 2. You could also include requirements that your specialist says the words "estimate" and "appointment set" during the call since those terms increase the likelihood of that call converting to actual business.
With these changes you can now set the value of a caller who pressed 1 for new roof sales and included your specified words at a $8,000 value and those that pressed 2 at $300.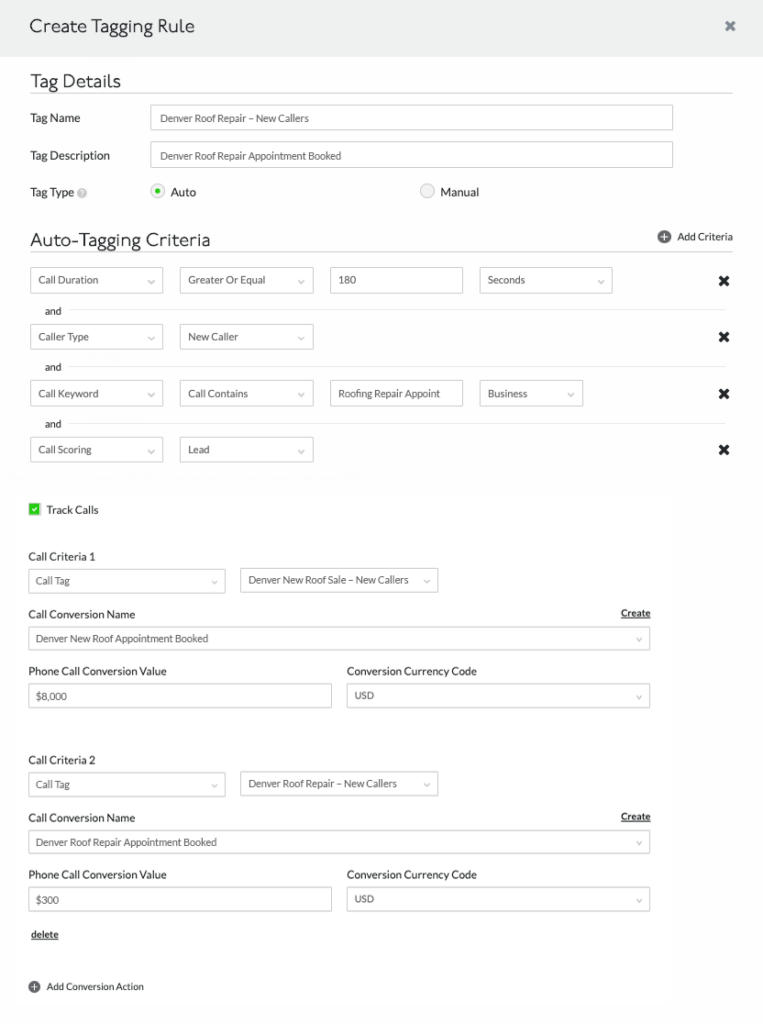 Your call analytics solution will push this new conversion data back into your Google Ads and Google Analytics account so you can now see the more accurate results reflected from Google Ad's conversion upload options.

By integrating your call tracking data, you have a more accurate picture of performance.
Now, you can see that your Phoenix location has a much lower average revenue/roofing job because it has a higher ratio of repairs vs. new roof sales. You have more accurate conversion tracking for your calls based on conversation keyword spotting so you can optimize for actual business and not just long phone calls that don't result in revenue. This matches more accurately to your actual location sales data and you now have a scalable call performance feedback loop for your marketing efforts.
With this solution in place, you can now see the ROAS at every level of your account and you get a better understanding of how your callers interact with your business.
Now you can really optimize:
You find that emergency calls in off hours need to be routed differently so you use the call analytics dayparting functionality to send callers to your emergency line. From there, you learn that $600 is a more accurate revenue number for those jobs and so you adjust your conversion value to that amount when your service specialist says, "we will be right there".
You are also prepared for hail storms that occur near your Denver location because you included the filter for "hail damage" in your call conversions at a higher value setting. You have ROAS bidding on your roof repair campaign, and you know that you will be ahead of your competition with the automated adjustments your account will make when those calls start coming in.
This is just the beginning of what you can do with call analytics and optimizing your marketing spend for a better ROI.
If you are interested in exploring how Call Analytics can help you optimize your digital advertising budget, learn about our Call Analytics solution, Marchex Marketing Edge.
Request a demo or sign up for a free 30-day trial.
Or continue to follow our blog series as we show more advanced optimization techniques using Call Analytics like the below:
Understanding and optimizing your Google Ads account based on demographic data
Adjusting your campaign for more accurate dayparting measurements and call routing functionality
How to prepare for seasonal trends by correctly measuring and adjusting for them ahead of time
Know the correct time and keyword sets to use call-only ad types
How to measure and optimize with SMS communication