Call Ads, or Call-Only Ads, are a Google Ads type that only work on devices that make phone calls. These ads are all about where a prospect is in the buyer's cycle – they are best suited for a prospect about to make a purchase.
Here's how they work: When a searcher clicks on your Call-Only Ad, the mobile phone dialer opens with your phone number pre-entered and dials your business rather than routing the searcher to your website as with standard ads. You can still provide a URL that gives the searcher the option to click through to your website, but the best practice is to forego that option with this ad type.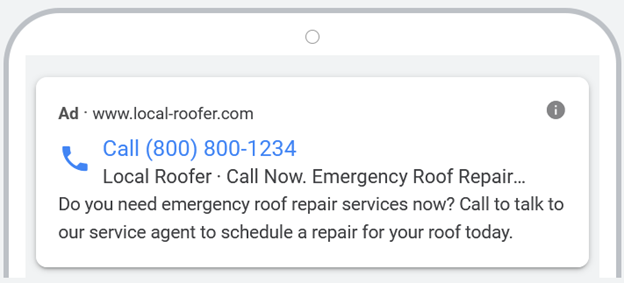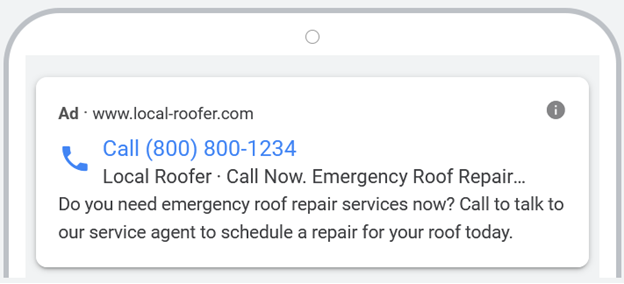 When deciding whether to deploy this ad type, making certain assumptions can speed up your testing results and limit wasted spend. A good place to start is to ask yourself these questions:
Does my business do a significant portion of business over the phone?
If yes, then a mix of Call-Only Ads can help you test call quality and learn about the customer experience so you can optimize Google Ads on all campaigns.
When are my busiest hours of the day for phone calls?
By creating a separate campaign and using dayparting for the busiest call times, you can help your potential customers find your business quickly and call your company in a single click. For example, many consumers make personal business calls on their lunch hour, and using Call-Only Ads to connect people with your business during this time makes sense. Talking with customer service can be much faster than perusing a website when it comes to getting information and booking an appointment.
Does my business offer emergency services?
"Emergency" keywords are typically a great fit for Call-Only Ads.  For example, a roofing company that provides emergency repairs may run ads with keywords such as "emergency roofing company". Potential customers who need immediate repair work want to connect with the business quickly and a campaign devoted to Call-Only Ads for these keywords accomplishes this need for efficiency.
Do certain keyword sets match a search for a customer at the bottom of the buyer's cycle?
Keywords of a searcher with purchase intent often differ from keywords searchers use to perform initial research. These high-intent keywords can be similar to emergency keywords, and generally drive callers who want to talk to a service agent in order to quickly schedule a service.  For example, consider a searcher using the phrase "roof company damaged roof". This searcher has an immediate need and quickly connecting this customer to a scheduling agent is likely a more positive call experience than sending them to a website.
Do my keywords match searches that need more specific information than what my website provides?
When a searcher has performed initial research, the next step is often to extend the research to his or her specific situation. For example, when a potential customer searches "cedar shake roofing cost," they are likely looking for a cost estimate, which your website is unlikely to provide. However, a Call-Only Ad will empower your service agent to manage the call and schedule an appointment for an estimate.
Call-Only Ads can be a very valuable tool for your business and it is always best practice to test multiple ad formats within Google Ads.  Having a Conversational Analytics platform connected to your Google Ads account can also help you understand customer behavior and how to route callers for the best customer experience.  Just as with any paid search campaign, optimizing your ad copy can pay off big dividends for your business.  Call-Only Ads are no exception and combined with the power of call tracking, they can provide the advanced optimization and performance your business needs.
Once you have identified where you want to use Call-Only Ads, you'll want to track success. A call analytics solution can help you link your ads to revenue outcomes and import those results directly into your Google Ads accounts.
In addition to providing the data you need to optimize your call-based campaigns, Conversational Analytics can also help you understand traffic by call channel. For instance, you can understand differences in caller intent when calls come from your website, from a call extension, or from a Call-Only Ad. With the right platform, you can also quickly organize and score your calls with keyword spotting for a scalable solution or utilize call recordings for an in-depth evaluation of the customer experience you are providing your callers.
If you are interested in exploring how call tracking and Conversational Analytics can help you optimize your digital advertising budget, learn more about our Call Analytics solution, Marchex Marketing Edge.
Request a demo or sign up for a Free 30-day Trial.
Or, continue to follow our blog series as we show more advanced optimization techniques using Call Analytics like the below:
Understand and optimize your Google Ads account based on demographic data (Coming Soon!)
Adjust your campaign for more accurate dayparting measurements and call routing functionality (Coming Soon!)
How to prepare for seasonal trends by accurately measuring and adjusting for them ahead of time (Coming Soon!)
How to measure and optimize with SMS communication (Coming Soon!)