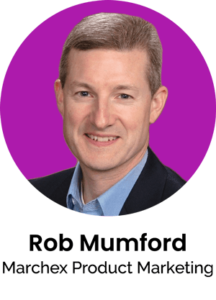 Today, I had the pleasure of interviewing our product marketing leader, Rob Mumford, on Marchex Platform Services, the latest Conversation Intelligence solution from Marchex.
Q: Rob, we are getting a lot of questions around our new MPS solution. Can you help our readers understand the value?
RM: Marchex Platform Services can apply Marchex's AI-powered analytics to any call…not just those routed through the Marchex platform. It's a conversation intelligence product that allows sales, customer engagement and marketing teams to run Marchex AI against any call audio, regardless of originating communication platform, in order to identify actionable insights from conversations with their customers.
Unlike many competitor solutions, Marchex Platform Services does not require a business to set up Call Tracking Numbers, port existing phone numbers, or learn a new reporting system in order to obtain the benefits of Marchex's conversation intelligence.
Q:  If I'm already a Marchex customer, how can MPS add value to my business?
RM: Some Marchex customers use multiple call tracking platforms across their business and don't want to change providers. However, they like the data and insights they receive from Marchex. This was the impetus for developing Marchex Platform Services. We apply Marchex's AI-powered analytics to calls for our customers, no matter what platform they originally came from.
Q: What kind of information can Marchex provide?
RM: Information can be analyzed at the enterprise, location or agent level. Businesses can learn more about the types of calls they receive, caller intent, sales call outcomes and more. Marchex can also redact personal information and transcribe calls cost-effectively.
Q:  If a business wants to take advantages of MPS, how do they receive the data? Do they need to use a Marchex dashboard to view?
RM: No, in fact most customers prefer to receive the data via API or webhook for delivery into an existing platform of choice, such as their CRM, Business Intelligence, or other systems of record.  Customers do have the option, however, to receive the data in the MPS Sales Enablement UI if they wish.
Get started or learn more about Marchex Platform Services.