Sending customized messages to opted-in prospects over text can be a great way to engage with leads, internal teams, and current customers. The personal feel of conversations over text can help establish trust with your brand, while saving your business valuable time.  
Sonar's Keyword Automation Rules feature makes it even easier to stay on top of text conversations, enabling Marchex Sonar users to send a pre-defined message to any incoming texts that contain a specific keyword or key phrase. Using keyword automation rules allows a business to send personalized texts based on an action the customer tookbulk texts while remaining relevant to the customer. The tool can help minimize response times and gives customers the immediate attention that most have come to expect. 
SMS keyword rules can be triggered for a variety of reasons, such as:   
Prompting contact by a sales representative to discuss a product or service 

Receiving a coupon for a product or service  

Being notified of upcoming events

or appointments 

Entering a contest or product giveaway

Opting in to receive future messages
Here are a few examples of how these advanced keyword rules work:  
If a company is doing a fall back-to-school promotion, they can set up an automated message that triggers a response when someone texts in the special code word. They can use digital ads or TV promotions with instructions like "text 'FALL' to 202-555-0152 to receive a special offer." The word "FALL" will trigger an automated message with a link or coupon to access the special rate. 
Another example would be if an auto dealer has potential customers looking to purchase a specific vehicle like a Ford F150, they can ask them to text "F150" to (555) 123-4567 in order to receive a callback from a sales representative and discuss the purchase of the truck. The SMS keyword in this case is F150.   
Using pre-defined automated message replies also allows you to send thank you messages and follow-ups when someone subscribes to texts, enters a contest, or registers for an event. Several industries and internal departments can benefit from these keyword automation rules. Marketing can send promotions, recruiters can notify candidates with job application updates, and sales can schedule follow up appointments with potential customers.  
How it works 
Marchex Sonar makes it easy to set up your automation rules in just a few steps. First, navigate to the "Automation Rules" tab under "Tools" in the Sonar UI. Then, just input a description, the trigger word or phrase, and the automated message – you're all set!  You can set up as many automation rules as you'd like, as well as edit, delete, or turn the rule off and on as necessary.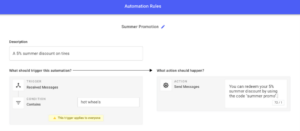 If you're looking for ways to automate messages with trigger words or phrases, reach out for a demo. Need more info about business texting? Check out our blog: Everything you need to know about business texting.